Welcome to my studio, my haven, my PERSONAL space. This is one of the main reasons that I started a blog. Every time there is a post about crafting spaces, all the cool kids say "Oh, here is a link to my blog where you can see my space." And I was left trying to dig out pictures. So 5 minutes ago, KWIM?
Now that I'm a cool chick with my own blog, I figured it was time to post my space so that I can point all those important people here when they want to see my digs. So here we go.....
This is my main work space. I love that everything is right where I need it, only a few steps away. But I have enough room that I don't feel crowded or cluttered. The glass top desk, legs and pink chair and boxes are all from Ikea. The white cabinets and countertop are from Home Depot.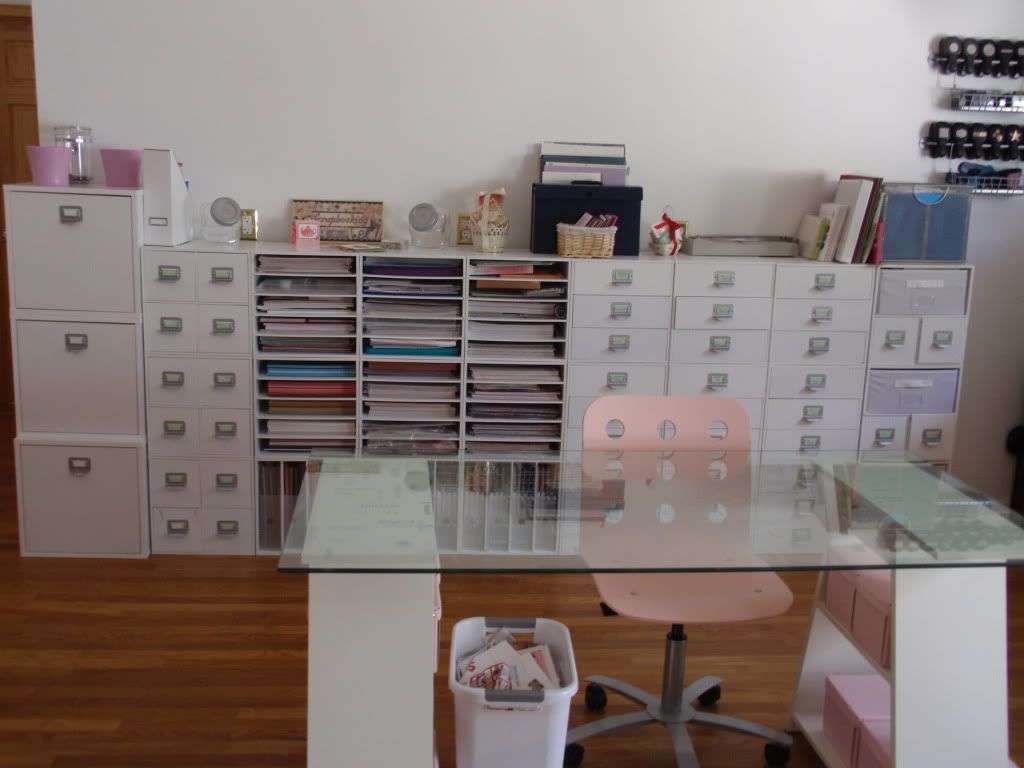 The white cubes are from Michaels and ACMoore (Jetmax). They are all labeled and hold everything from rub-ons to embossing powder to spot sized stamp pads to stamp sets in CD cases. If I could only have one kind of storage in my studio, this would be it. So versatile and neat looking.
This is where I do the vast majority of my trimming and stamping. The counter gets lots of natural light and is perfect for matching colors and such. The Making Memories white spinner holds all kinds of tools like Exactos, paper piercers, scissors, spatula, pens, ATG, etc. The Stamp Pad caddy from Stampin UP! holds all my full sized SU ink pads. The large trimmer is a Carl DC220 heavy duty trimmer. It will cut through a stack of 10 sheets of 120 lb cardstock like buttah!
I use Bygel rods and baskets from Ikea to store my punches. It keeps them neat but still in sight so I use them much more than if they were stored away in drawers.
This is an Expedit 4x4 unit and a Billy bookcase, also both from Ikea (seeing a trend here, LOL?) The white boxes on the bookshelf hold all of my Stampin Up! stamp sets as well as loose stamps like House Mouse and such. They are all labeled for quick access, but neatly out of sight. LOVE that!
This is my "die cut center." The counter houses my Big Shot, plus Sizzix towers of dies, my Cricut Expression, and my Klick-N-Kut XL, which is under the cutting plotter cover. The drawers in the cabinets underneath hold Sizzlit alphas, Cricut cartridges and my secret stash of chocolate. What is a studio without chocolate, right? The cabinets hold boxes of ribbon sorted by colors, acrylic paints, Club Scrap kits and other bulky items that need somewhere to go.
My Making Memories Embellishment Centers hold all my "bits and bobs" that crafters need, but get lost in drawers, boxes and such. The glass jars are from Ikea. They hold Papertrey Ink buttons, Prima flowers and anything else that I can think of. Most of my ribbon is sorted in boxes in the cabinets underneath, but my Papertrey Ink and Stampin Up! ribbons are special enough to be kept on the spools in these shelves.
I know that they are skewed in relation to the counter top here. The MM center on the far right will be moved to the far left soon. The gap between the cabinets and the wall will be filled in with a tall "pantry-style" cabinet to store larger items and many shelves of goodies. The problem is that I can't decide exactly what kind of cabinet I want, LOL. I've narrowed it down to three or four and as soon as I pick, I'll order it and slide it right in there.
Many people ask me if my room looks like this all the time or does it get to be a mess. Honestly, it always looks just like this. I didn't clean up to take these pictures; see all the papers and junk in the trash can under the desk? Oh, there may be a few papers on my stamping counter sometimes, but nothing more than that ever. The best thing about my studio is that everything has a place. And when everything has a designated location, it only takes a few minutes to put everything away when I am done with it. I always take 5 minutes when I am finished to put things back in their places. This not only keeps my room neat and tidy, but it also allows me to find things the next time I want to use them. I guess it's the engineer in me; I cannot create in chaos. My mojo runs and hides if I try. LOL~
Well that's about it. Many thanks for looking. I'm off to my studio to relax and create some new things to show you all tomorrow.