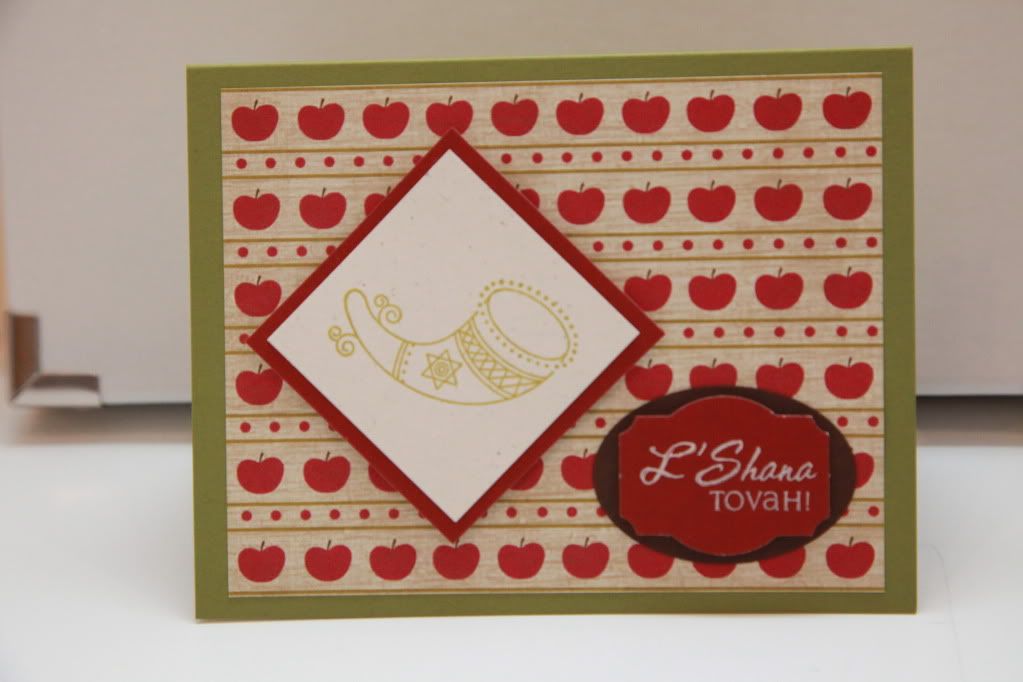 Well technically, I guess I'm a bit early as the holiday doesn't start until sundown. But I wanted to offer my felicitations to all my Jewish friends.
I made this card for my secretary. She is the sweetest lady who drives everyone crazy trying to do a good job. I don't think that she understands that perfection is the enemy of excellence. But her heart is as big as Texas and is definitely in the right place. I've taken her under my wing even though she's 20 years older than me.
The smallest things seem to mean the world to her. I've made two or three cards for her and each has sat on her desk for over a month. Then she takes them home and puts them in an album. As a newbie cardmaker, that's some of the highest praise I'll ever receive.
I made this card for her to celebrate Rosh Hashanna. She is the only Jewish person in our office, so most of the guys (sweet, but can't remember their own anniversaries let alone Jewish holidays that move every year, LOL) don't acknowledge her important days. I love learning more about judiasm and she's always willing to share without making me feel dumb for not knowing in the first place.
The card is made from SU Ivory, Kiwi Kiss, Chocolate Chip and Riding Hood Red cardstocks. The punch is SU, the patterned paper is unknown from my LSS. The stamps are from PTI.
Thanks for looking! Mazel Tov!